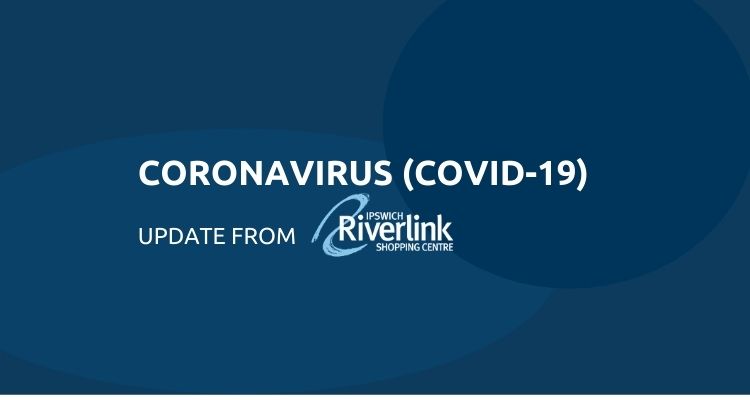 Riverlink Shopping Centre is closely monitoring COVID-19 and continues to follow the advice from Government and Health Authorities. We are committed to make sure you are updated on the steps we are taking to help continue to protect the health and well-being of our community.
With the easing of restrictions in Queensland, social distancing and good hygiene practices remain essential. We continue to take proactive measures to ensure our Centre continues to be a safe place to visit, work and enjoy. These steps include:
Increased cleaning rotations with particular focus on high touch point areas (i.e. food court, travelator, amenities)
Provision of sanitiser stations throughout the Centre (map of sanitiser locations here)
Signage to promote Government health directions
Proactively encouraging personal hygiene with customers, retailers and suppliers
Increased focus on social distancing measures, including on-ground markers, signage and regular announcements
Visiting Riverlink Shopping Centre
If you are visiting Riverlink Shopping Centre, it is essential that you maintain the highest level of personal hygiene. Best practices include:
Covering your coughs and sneezes with your elbow or a tissue
Disposing of tissues properly
Washing your hands often with soap and water, including before and after eating and going to the bathroom
Using alcohol-based hand sanitisers
Staying more than 1.5m away from people

An isolation area and first aid post located at Centre

Management (between EB Games & Vodafone) for all events. This includes a designated area where someone who becomes unwell can be isolated from others.

Regular PA announcements that occur every 30 mins at the Centre to remind customers of Key Health Principles.
If you have any of the following symptoms, please do not enter Riverlink Shopping Centre
Fever
Cough
Sore Throat
Shortness of Breath
Runny Nose
Fatigue
In line with Government advice, we also ask you DO NOT ENTER the Centre if:
You are feeling unwell
You have been in close contact with a person who is positive for COVID-19
You are positive for COVID-19
Have travelled overseas or from a declared COVID HOT SPOT in the previous 14 days
Riverlink Shopping Centre has the right to refuse entry to anyone with COVID-19 symptoms.
Events at Riverlink Shopping Centre:
All events at Riverlink Shopping Centre are conducted under a COVID SAFE Event Checklist.
A physical copy of the Statement of Compliance for an event is located at the event location.
The Australian Government recommends downloading the COVID SAFE APP. For more information please call 1800 020 080.
To notify the Queensland health authorities phone 1343 2584.
Thank you for your continued support and take care of yourselves, your family and friends.
Riverlink Centre Management